God Save The Queen
PDF Solopart - God Save The Queen - C-Major>>>
PDF Solopart - God Save The Queen - D-Major>>>
PDF Solopart - God Save The Queen - Eb-Major>>>
PDF Solopart - God Save The Queen - F-Major>>>
PDF Solopart - God Save The Queen - G-Major>>>
PDF Solopart - God Save The Queen - Ab-Major>>>
PDF Solopart - God Save The Queen - A-Major>>>
PDF Solopart - God Save The Queen - Bb-Major>>>
PDF Solopart - God Save The Queen - C2-Major>>>
PDF Solopart - God Save The Queen - D2-Major>>>
PDF Solopart - God Save The Queen - Eb2-Major>>>
PDF Solopart - God Save The Queen - F2-Major>>>
PDF Solopart - God Save The Queen - Bass Clef -Bb-Major>>>
PDF Solopart - God Save The Queen - Bass Clef -A-Major>>>
PDF Solopart - God Save The Queen - Bass Clef -Ab-Major>>>
PDF Solopart - God Save The Queen - Bass Clef -G-Major>>>
PDF Solopart - God Save The Queen - Bass Clef -F-Major>>>
PDF Solopart - God Save The Queen - Bass Clef -Eb-Major>>>
PDF Solopart - God Save The Queen - Bass Clef -D-Major>>>
PDF Solopart - God Save The Queen - Bass Clef -C-Major>>>
PDF Pianopart - God Save The Queen - C-Major>>>
PDF Pianopart - God Save The Queen - Bb-Major>>>
PDF Pianopart - God Save The Queen - A-Major>>>
PDF Pianopart - God Save The Queen - Ab-Major>>>
PDF Pianopart - God Save The Queen - G-Major>>>
PDF Pianopart - God Save The Queen - F-Major>>>
PDF Pianopart - God Save The Queen - Eb-Major>>>
PDF Pianopart - God Save The Queen - D-Major>>>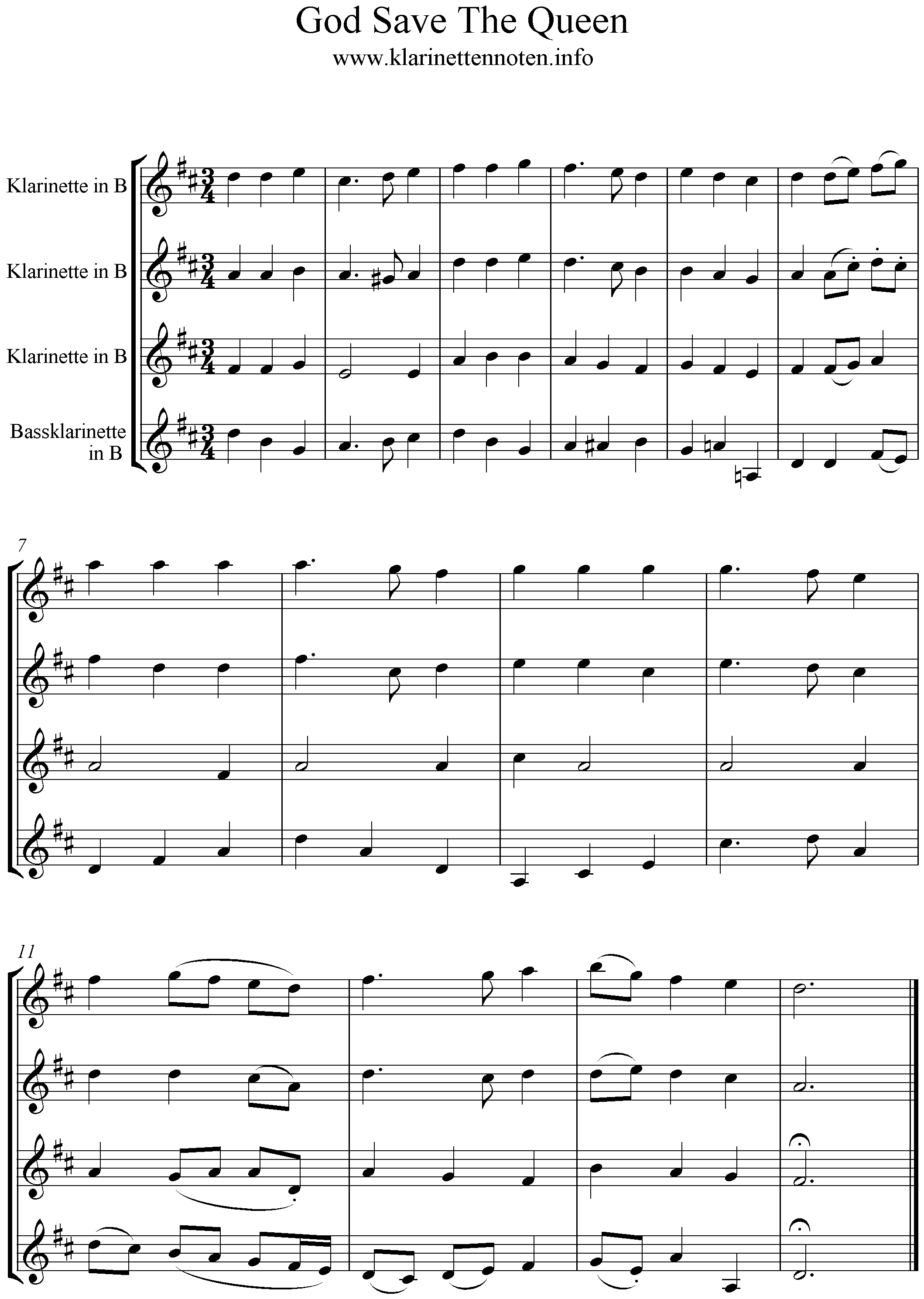 1.God save our gracious Queen,
Long live our noble Queen,
God save the Queen:
Send her victorious,
Happy and glorious,
Long to reign over us:
God save the Queen.
2.O Lord, our God, arise,
Scatter thine enemies,
And make them fall
Confound their politics,
Frustrate their knavish tricks,
On thee our hopes we fix:
God save us all.
3.Thy choicest gifts in store,
On her be pleased to pour;
Long may she reign:
May she defend our laws,
And ever give us cause
To sing with heart and voice
God save the Queen.
1.Heil dir im Siegerkranz,
Herrscher des Vaterlands!
Heil, Kaiser, dir!
FĂŒhl' in des Thrones Glanz
die hohe Wonne ganz,
Liebling des Volks zu sein!
Heil, Kaiser, dir!
2.Nicht Ross', nicht Reisige,
sichern die steile Höh',
wo FĂŒrsten stehn;
Liebe des Vaterlands,
Liebe des freien Manns
grĂŒnden den Herrscherthron
wie Fels im Meer.
3.Heilige Flamme glĂŒh',
glĂŒh' und erlösche nie
fĂŒrs Vaterland!
Wir alle stehen dann
mutig fĂŒr einen Mann,
kÀmpfen und bluten gern
fĂŒr Thron und Reich!